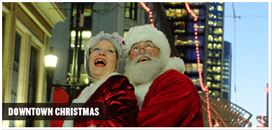 Downtown Christmas events - Dec 12 & 19
We're bringing the holidays downtown!
Join us on December 12th, 2015 as we welcome Santa and Mrs. Claus to the Devonian gardens. This FREE event takes place from 11am to 2pm, where you and your family will have the opportunity to get photos with Santa, enjoy story time with Mrs. Claus and take in some Christmas themed entertainment for the whole family!
On December 19th, 2015 come skate with Santa at Olympic Plaza! This FREE and unique event happens from 11am to 3pm at downtown's lovely Olympic Plaza skating rink! Bring your family to our skating party which will feature a free skate and helmet rental and a chance to skate with Santa. We've also invited some local skating clubs to give some skating demonstrations as well as tips and pointers!
Looking for some more holiday fun? Keep your eyes and ears open for the Stephen Avenue carolers. Every Tuesday and Thursday from 4pm to 5pm until December 22nd on Stephen Avenue we will feature carolers. See our holiday page for a full listing.

Legend Has it - Until Dec 31
This is a funny, heartwarming fantasy adventure for the whole family, complete with powerful spells, magic swords and comic sidekicks. Plus: there's a twist! Every show, the actors pick someone in the audience, child or adult, to go on a quest to save the world. The hero gets to pick their own journey. The performers, some of Canada's top improvisational talent, guide them on a hilarious and life-affirming trip to uncover the hero within.
The reviews are in and Legend Has It is a HIT! Be sure to check out their New Years Eve showing for a great way to ring in 2016!

Cirque Musica - Dec 4 & 5
The Cirque Musica Holiday Spectacular is a fun filled holiday entertainment event for the entire family. The perfect celebration for the holidays as the cast of Cirque Musica performs incredible feats of strength, skill, and grace to great Holiday music favorites performed by a live symphony.

Hidden Gems film fest - Dec 4, 5, 6
Hidden Gems Film Society will be welcoming esteemed Director Mr. James Ivory to Calgary on December 4-6, 2015. Mr. Ivory will be present at the showing of five of Merchant-Ivory's most iconic films set in India. James Ivory will join the screenings for a conversation about the works and world of Merchant-Ivory.

Epiphany @ Lunchbox theatre - Until Dec 23
Dave Kelly returns to Lunchbox!
A middle-aged man tries to salvage his dreams, his family and marriage during the most relaxing, peaceful, loving season of the year. A time when we ask – "WHY ARE WE GOING TO A CHRISTMAS PAGEANT?!! Oh. Sorry."
Dave Kelly's new show takes a humorous, contemporary spin on following your star to find the answers in life.
---