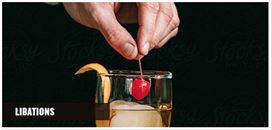 Downtown Libations - Jan 27, 2022
The search for great happy hour deals is over. Join Downtown Calgary for a new monthly happy hour gathering called Downtown Libations. Each event will take place the last Wednesday of each month from 4-6PM at a different location Downtown and will feature happy hour promotions and surprises. We've partnered with Calgary's newest downtown dining spot the Cactus Club Cafe for the first Libations event on Wednesday January 27. Escape from the winter blues with a Sunset Soda, signature Bellini or Longboard Lager for $4. Wine lovers can choose from the Montelvini Cabernet Merlot or Pinot Grigio for $6.

Happiness Lunch & Learn - Jan 27, 2022
Join Karen Judge for a lunch and learn on The Business of Happiness… Bring your lunch and come learn about why happiness matters in business and in life, and ways to increase happiness. No Cost to attend! To attend please RSVP to [email protected] to get on the guest list. Seating is limited.

Pipes Spectacular - Jan 29, 2022
Canadian virtuoso concert organist Maxine Thevenot presents an eclectic program of organ music from many historical periods including J.S. Bach's "Piece d'orgue", McNeil Robinson's "Chorale Prelude on Llanfair", and more.

Puppetry at Vertigo theatre - Jan 28 - Feb 7
A MOVING STORY ABOUT FAMILY AND THE ENVIRONMENT
Phineas William Walsh has an encyclopaedic knowledge of the natural world. What he doesn't understand, though, is why his parents can't live together – after all, when other mate-for-life animals have a fight, it's not like one of them just packs his bags and leaves the country. To make things worse, Phin is worried sick about what humans are doing to the planet. So, when a White's Tree Frog ends up in an aquarium in his fourth-grade classroom, it's the last straw. My Family and Other Endangered Species is a funny, imaginative and moving play incorporating inventive puppetry. 

Skate in Nature - Jan 30
Wipe away those winter blues! Grab your skates and head down to Prince's Island Park this winter for The City of Calgary's free Skate in Nature program. Enjoy some fresh air with family and friends, get toasty by the fire, and learn how local plants and animals adapt to the cold weather with some fun nature activities.
---