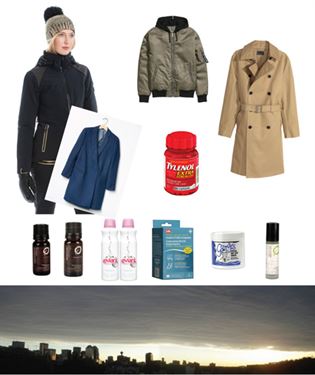 In case you haven't noticed the weather has been unseasonably warm thus far in 2016. I personally think we should change Calgary's moniker from Cowtown to Chinook City thanks to the incredibly dry and snow-free winter we've been having. Of course, as with every unique weather phenomena, there are a few different issues that come along with having unseasonable temperatures in the middle of winter. I've put together a list of the most common Chinook woes and some solutions to help you enjoy these warm days to the fullest. We all know that a snow day is just around the corner…
The Fedora Jacket from Lole is a great casual option for women while this Blue Wool Coat from The Gap is great for work and after work. For men, a classic trenchcoat is great for layers with a cardigan or blazer for work and a vintage-inspired bomber (both from H&M) for the weekends.
I bought a parka and nothing else - now what?
Oh yes, you aren't the first Calgarian to make this sort of mistake. Quite often when people move to Calgary they are unaware of Calgary's on-again-off-again Chinooks that happen quite frequently throughout the winter. All they've been told is that we are a winter city and that you need to dress warm. Which is true for the most part of winter but as someone who was born and raised in Calgary, I can count on one hand how many times I wore my parka in the city each winter. The key for dressing for Chinook weather is layers. The weather could change at any moment so wearing layers allows you to bundle up quickly or disrobe when the sun comes out. A light yet warm jacket is definitely an essential for anyone who walks or commutes through downtown - anything too puffy or warm will have you sweating by the time you reach the office.
My skin is so dry - how can I keep it hydrated?
The constant weather changes can wreak havoc on your skin, whether it is normally sensitive or not. The number one best thing you can do is drink plenty of water. After that, a great moisturizer and a couple other products will help your skin from totally cracking and drying up.
George's Special Dry Skin Cream is actually made right here in Calgary (available at Shopper's Drug Mart at The CORE). Another great product is the Evian Water Spray (available at Sephora) for when you feel like you need an instant hit of hydration to your skin. This is also one of my favourite products in the middle of a hot summer - instant cool down.
I suffer from Chinook headaches - any natural cures?
Many Calgarians suffer pressure headaches from the high pressure winds that signify a Chinook occurrence. Beyond taking the usual headache medication, I have found some natural methods of relieving that pressure on my head; ice packs are great for relieving headaches. You can pick these up at Shoppers Drug Mart and keep them in your office's freezer; essential oils are another great natural remedy. Pop into Escents Aromatherapy to pick up some Rosemary and Peppermint oils to keep on hand when you feel a Chinook headache approaching. They also have a natural headache relief roll-on in Peppermint + Lavender for extra head-aid!
I want to be outside as much as possible. Is this normal?
Completely normal. Take your lunch outdoors and eat it in a downtown park like Prince's Island Park or on a park bench on Stephen Avenue. There might even be a few downtown patios that have opened up early for the folks who can't resist enjoying the warm weather. Enjoy!
---