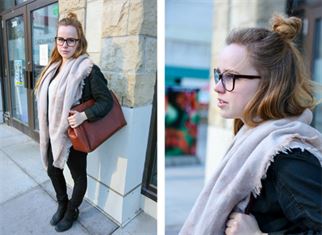 I love meeting young people who not only possess style, but also confidence and maturity beyond their years - and Elizabeth Cameron fits that bill perfectly. She's enthusiastic, talented, stylish and could talk about fashion all day, so naturally, we hit it off right away! I love her combination of practicality and function, while easily remaining true to her personal style aesthetic, as she completes her photojournalism education and embarks on what promises to be a very successful and exciting career as a photographer and journalist.
http://www.summerley-photography.net
How would you describe your personal style? 
My style is very simple, with a few great pieces always in rotation with other basics. I guess the best description would be "model off-duty", except I find my clothes at thrift stores or steal them from past boyfriends (I swear men's t-shirts are made with twice as much thread) rather than designers sending them to me. Most of my clothes are oversized, because I prefer that silhouette, and I like to invest in pieces that are timeless. I use accessories to create the outfit; the clothes are just a canvas.
What are some of your influences when it comes to fashion? 
I'm a photographer who loves fashion and editorial photography, and my style has definitely been heavily influenced by the fashion world. My ultimate style icon is Gwen Stefani, once I read an interview with her in W Magazine and she said red lipstick gives her the confidence to face the world everyday, and I love that. The 90's are my favourite decade of fashion, think Drew Barrymore in a leather jacket, plain t-shirt and mom jeans. I'm all about it. I worked at the mall for several years growing up, so a lot of my clothes come from the stores I worked at. That also means I own almost exclusively black, grey, or white.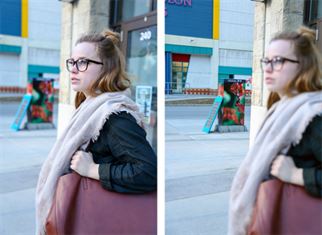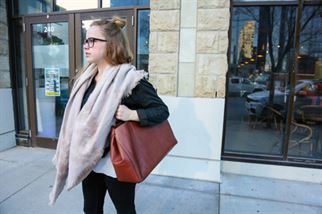 What are some of your favourite stores and shopping destinations in Downtown Calgary? 
I avoid malls after working there for so long, but if I have to shop at one, I like The Core. When Topshop came to The Bay downtown, that was life changing.
What are some of your favourite Downtown YYC spots? 
One of my favourite places in downtown Calgary is Café Blanca, near the Eau Claire Cineplex.
What are some of your favourite trends right now? 
My favourite trend is the dark, vampy lipstick popping up on lips everywhere. It's such a powerful, don't-mess-with-me look and I love it. When people take risks with their style, we see so much more variety in fashion, and I think that's important. I'm also really into turtlenecks right now, I'm not sure if that qualifies as a trend, but they've totally made a resurgence in the past few years. I'm into rings and layering jewelry like crazy, and the trend right now is all about mixing metals, which is awesome. Black, brass and gold pieces look great in stacks of bracelets or rings.
What fashion advice would you give to others? 
If it makes you feel confident, wear it. I used to waste a lot of time thinking about how other people would perceive me, and the truth is your thoughts could be directed towards much more positive things, like self-love. Clothes should make you feel good and be comfortable, period. Also, if you're feeling uninspired or you're rushed, you can save any outfit with a really great pair of shoes. And most importantly, never leave the house without moisturizer and SPF; good skin is always in style!
Tell us more about the projects and work that you're involved with. 
I'm about to graduate from the photojournalism diploma at SAIT, and in March I'm starting a practicum at the Calgary Herald. I'm filming a documentary with some friends in my free time, about Blackfoot youth retaining their culture, and I'm currently working on a portrait gallery of transgender/non-binary persons from Calgary. Each week I photograph someone different. It's been a really great experience, and I'm learning so much from my subjects.
What are some of your future aspirations?  
I think I understand Calgary pretty well, so I hope to travel to places that are unfamiliar to me. I'm not sure beyond that, because whenever I plan something it never happens like you planned it anyway. Ultimately, I would one day like to start my own magazine full of realistic, un-photoshopped models and produce meaningful content for young women. I don't think there's a publication out there that truly satisfies that need, so I'm going to create it myself. Until then, I'm going to start at The Calgary Herald and see where my camera takes me from there.
How does your work influence your personal style? 
I carry about 60 pounds of camera equipment everywhere, so my personal style has adapted to be more functional. I wish I could wear heels and dresses and the like, but it's not cute to flash your subject when climbing up on something to get that perfect angle. That's also why my outfits are so minimal too, because when I'm shooting I don't want to worry about ripping my tights or missing a shot because I'm adjusting something. I stick with plain black jeans and shoes that I can reasonably move around in. I love wearing makeup but I don't very often because it gets smeared all over the back of my camera, so Aldona caught me on a good day with these wings.
Anything you'd like to add or tell us about?
Not much else to say really, but I could go on and on and on…because I love fashion!
---