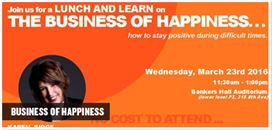 Business of Happiness - March 23, 2022
Join Karen Judge, Speaker/PositiveMind Health Specialist/Happiness Stylist, for a Business of Happiness Lunch & Learn at Bankers Hall Auditorium on March 23rd from 11:30am-1:00pm. Karen will be sharing how you can immediately improve happiness in your workplace and in your life. She'll also be talking about how to manage stress and move through difficult times. Email Karen to reserve your seat karen[email protected]

The Turn of the Screw - Until Apr 10, 2022
A young governess is hired to care for two recently orphaned children in a lonely English manor. As the story unfolds, she begins to see the specters of the former governess and her lover haunting the youngsters. As she strives to stop the fiends from possessing their young souls, one frightening question tortures the would-be heroine: Are the ghosts real, or merely a product of her own fevered mind?

Fitness @ the CORE - March 27, 2022
Come get fit at the CORE! We're here to help you sweat with FREE weekly fitness classes every Sunday, courtesy of Fitset and Lolë. Please arrive between 10:30am and 10:45am so you can drop off your things and sign our waiver. Class starts at 11am sharp on the 2nd floor glass bridge, right in front of Lolë. See you there!

The JUNO HUB is the place to go if you want to find out about all the various JUNO events taking place prior to the awards show on Sunday April 3, 2016.
The JUNO HUB is volunteer run and hours of operation are:
Monday-Friday 11am-2pm
Saturday 10am-3pm
Sunday CLOSED

Crash Test Comedy - March 22, 2022
Watch live stand-up comedy every Tuesday night at Vern's. Some of Calgary's funniest up-and-coming comedians, plus special guest touring and professional comedians will make you laugh each Tuesday night!
---
Sign Up For the Downtown Calgary events newsletter
---