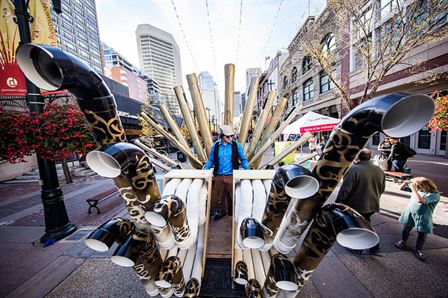 Beakerhead is taking over Calgary September 14th to the 18th. There will be art, science, and engineering smash ups - both indoors and outdoors! Below are a mixture of free and ticketed exhibits and activities that you can find while exploring downtown.
Social Innovation Marketplace
FREE
Bow Valley College, South Campus (2nd Floor, 345 6 Ave SE)
Wednesday, September 14th - 11am - 1pm.
Take your lunch to Bow Valley College to check out a marketplace of innovation! Learn about cool people who are running businesses and hoping to change the world. 
A Creative Kink in My Hair
$20 - Buy Online 
Theatre Calgary (220 9 Ave SE)
Wednesday, September 14 - Friday, September 16th - 1pm Daily 
Dive into the psychology of hair and character with Theatre Calgary's Wardrobe and Wig Master Ron Siegmund. Bringing years of experience with styling for the stage, Ron will share how style can determine everything from era to age.
Following his inspiring talk, participants will create their own "hairstyle" on a styrofoam mannequin head, using everyday objects and physics to reflect who they are! A fun-filled combination of discussion and hands-on creativity!
Four to Six
FREE
Stephen Avenue Walk (between 1 St SE & 3 St SW)
Wednesday, September 14th - Friday, September 16th - 4pm - 6pm.
More than 16 activations to explore, including a father-son creation called the Borealis, the original Calgary MakerBus, a mind-bending Camera Obscura or a student-made Brainstorm. Test your voice to see if you sound "authoritative". Channel your Jackson Pollock with milk paint. Hop into the Lumbering Contraption, a human-sized hamster wheel. There are many more activations to try out!
Zimoun
FREE
Contemporary Calgary (118 8 Ave SW)
Wednesday, September 14th - 5pm - 8pm
A gallery of robotic cardboard comes remarkably alive in this international premiere of Swiss artist Zimoun's new work. Using simple and functional components, Zimoun builds architectural sound sculptures and installations ­– graceful, mechanized and playful works with structural simplicity. They almost seem alive and, as a result, trigger questions about the difference between the "artificial" and the "organic." Co-commissoned by Contemporary Calgary.

The Memory Illusion
$17-$20 - Buy Online
Calgary Public Library, John Dutton Theatre (616 Macleod Trail SE)
Wednesday, September 14th - 7pm - 8:15pm
Dr. Julia Shaw, author of the book, The Memory Illusion, demonstrates the absolute centrality of memory to our existence, and explores the many astonishing ways it can go awry — from the puzzling experience of forgetting names to the more extreme case of developing false memories. The Memory Illusion challenges you to consider that you may not be who you think you are. This event is brought to you by Wordfest and includes a presentation, on-stage interview, Q&A, and book signing.
Ghost River Theatre: Touch
$50 - Buy Online
Aveda Institute Calgary (225 8 Ave SW)
Wednesday, September 14th - Sunday, September 18th (various times).
Touch is a unique, blindfolded sensory adventure that mixes storytelling with the best of the Aveda salon experience, not to mention the latest in scientific and performance research. P.S. - Yes, your hair will get washed! This short and tactile theatrical experience is created by Ghost River Theatre in association with the Aveda Institute Calgary. 
GenNext Beakerhead Mingles
$15-$20 - Buy Online
National on 8th (225 8 Ave SW)
Thursday, September 15th - 6pm - 8pm.
TRICO Charitable Foundation and the United Way of Calgary invite you to eat, drink and be informed! Hear innovators give you the skinny on how they're changing the world, and then pick their brains over a pint. Includes a complimentary appetizer and drink. Online tickets are $15, or pay $20 at the door. 
Love Lab: The Darker Side of Relationships
$20 - Buy Online
Royal Canadian Legion No. 1 Branch (116 7 Ave SE)
Thursday, September 15th - 8pm - 9:30pm
Dr. Susan Boon from the University of Calgary and Dr. Stephen Yoshimura from the University of Montana, explore revenge in this animated and scientific evening, held in one of the world's oldest love labs – a pub! Everyone welcome, even if you don't have revenge on your mind.
Analog Listening Party
By Donation
ATB Financial (102 8 Ave SW)
Friday, September 16th - 5pm - 7pm
You are invited to a listening party hosted by medical experts and audio engineers who will guide you through an audio landscape to explore the effects of sound and volume on our ears, brains, and body. Guests are encouraged to bring their own vinyl records and share a favourite song. Free registration is full, however you can still attend the event via donation.
Taste of That Thing in the Desert
FREE
Parking Lot 6B (Corner of 4 Ave and 8 St SW)
Friday, September 16th - 6pm - 11pm
Join the League of Extraordinary Albertans for a celebration of freedom and radical self-expression with interactive art displays, workshops for all ages, performances and live DJs for dancing. Expressive dress and costumes are encouraged for this family-friendly event with interactivity for kids and grown-ups alike!
Rock n' Roll History of Space Exploration
$35 - Buy Online 
Theatre Junction Grand (608 1 Street SW, Calgary, AB)
Saturday, September 17th - 2pm & 7pm
Join Jay Ingram and his band, the Cosmonauts, on a visual and musical journey through an era when the idea of space exploration was only a dream. Those dreams created the space age and have indeed come true. Made possible by DIRTT. 
The Art of Women in Wartime
$25-$72 - Buy Online
Martha Cohen Theatre (220 9 Ave SE)
Sunday, September 18th - 1pm - 4pm
Join Alberta Theatre Projects to explore the art and science of women in wartime and enjoy a matinee performance of Waiting for the Parade by John Murrell. Five very different women wait out the war in this charming, funny, and touching drama that is one of our country's best-loved plays. In a pre-show Beakerhead event, celebrate the vital role of women in wartime, and their contribution to innovation.
A complete list of Beakerhead's events can be found on their website.
---