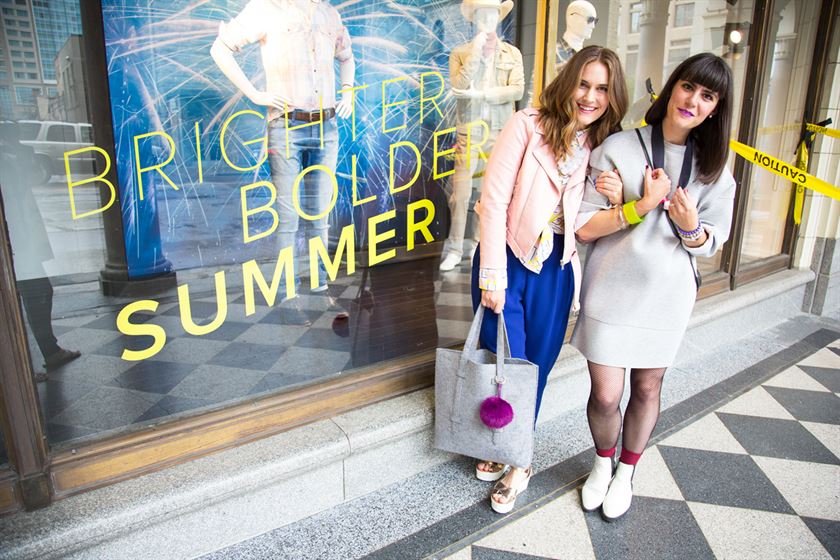 I feel like words alone won't do justice to how much adoration and respect I have for these ladies - and how much I love their styles! - so I'm really grateful for the fact that I take pictures and hopefully I was able to capture at least some of the awesome fun that I had with these two stylish beauties!
I find it rare to stumble upon a fashion blog that I adore and go back to on a regular basis - and stalk their Instagram feed too - and these gals are it! I love their style so much that for the first time in a long time, I feel truly inspired and excited to kick up my own. They posted a beautiful red jacket that I fell in love with instantly, so I had to buy it of course - so basically, their feed is extremely dangerous for my credit card!
They love accessories as much as I do, and trying new things with their looks, which I'm happy to witness and now share with you all. Their styles are unique and funky, their perspective is fresh, and I highly encourage you to check them out - they are more than just NEAT.
How would you describe your personal style?
Suzanne: I would say casual and funky with pieces that are form fitting, well-tailored and figure flattering. I like to play with classic silhouettes by using colour and pattern and ton of texture to keep things interesting. And I am all about the feel of the clothes, I am a very tactile person so I like my clothes and material to feel good.
Kayla: For a lack of better description, avant-garde. I like bold, structural, modern or unusually-shaped pieces that make a statement independent of wearer. Bright colours and mixing them together is also something I am very much into. AND jewelry, lots of it, tons of it. And very interesting, original pieces that are usually hand crafted or vintage - very much what I'm drawn to.
What are some of your influences when it comes to fashion? 
Suzanne and Kayla: Good old fashioned magazines still do it for us. We love sitting down and reading a fashion magazine from beginning to end. Travel is also an inspiration, every city and country has its own style and feel, it's good to see what other people are dressing like to get you outside your comfort zone. And being out in nature is such an influence, Mother Nature is truly the original fashion designer. As for fashion muses we love Tilda Swinton, Miroslava Duma, Solange Knowles and Jenna Lyons.
What are some of your favourite stores and shopping destinations in Downtown Calgary? 
Kayla and Suzanne: Winners, and soon to be Simon's once it arrives. And always and forever The Bay!
What are some of your favourite Downtown YYC spots? 
Suzanne and Kayla: The Glenbow Museum, they always bring in amazing exhibits. Courthouse Park, the flowers, trees and water feature are so beautiful, it's the perfect outdoor lunch spot. I love the little public urban spaces that have been popping up, like the Bow Plaza, which is meant to be temporary. I love that concept; heres an empty space, let's fill it with something for the people during this transition period. And The Palomino for good drinks and deep fried pickles, yum city!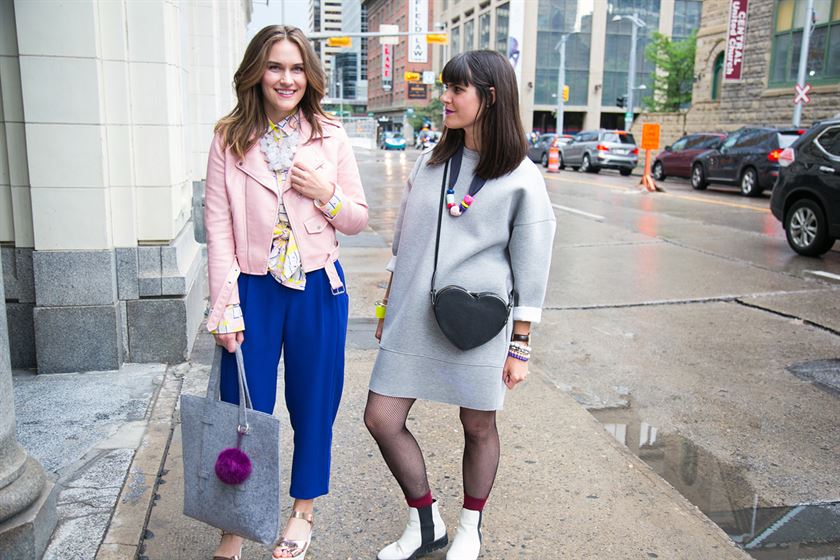 What are some of your favourite trends right now? 
Suzanne and Kayla: We have no idea! We don't keep up with the trends, it that bad to say considering we have a fashion blog? Ha. Subconsciously we follow trends as they seep into the mainstream regardless, but we don't actively seek out trends when we go shopping. We just buy what we like and if it's it on trend than fantastic!
What fashion advice would you give to others? 
Suzanne and Kayla: It's pretty simple - wear what you want! We don't care what other people wear, only what we wear and feel good in. If we felt good in velour tracksuits then we would wear velour tracksuits every day. Sadly we are allergic to velour tracksuits and most trends from the early 2000's, as diagnosed by our family doctor, so you won't be catching us in one anytime soon. But if a velour tracksuit is your jam then go ahead a wear it! Just wear what makes you happy.
Tell us more about the projects and work that you're involved with. 
Suzanne and Kayla: We have a few things going on right now with some very creative Calgarians. Our talented friend and jewelry designer Ellinor Stenroos is releasing her new line of 3d printed jewelry and we are collaborating with her on the shoot. We will be modelling the pieces and featuring it on NEAT. This will mark the official release for her new line and we are beyond excited for it!
Our beautiful friend Sarah Knorr, the talented lady behind some of the best fashion photos on our blog, is opening an incredible retail store called Fieldstudy. We were fortunate enough to model outfits with lines she will be offering in her store to create her fall lookbook! We couldn't be more thrilled for this store to open, it's going to be a great addition to the retail scene in Calgary.
We will also be collaborating with stylist extraordinaire and contributor to NEAT, Julie Redmond from Style by JR. We are working on a super creative editorial type piece that is going to involve some heavy metallics with a futuristic feel, so watch out for that.
What are some of your future aspirations?  
Suzanne and Kayla: To eat an entire cheesecake in one sitting and take over the world. But mainly to continue to collaborate with all the amazing creatives in this city and have a ton of FUN while doing it.
How does your work influence your personal style? 
Suzanne and Kayla: We try to promote Canadian designers and content, sustainability, home grown talent and local artists. People in this country are so wildly creative and special and it makes us proud to be Canadian.  This leads us we wear a lot of Canadian designed and/or made clothing and jewelry and we love it!
---