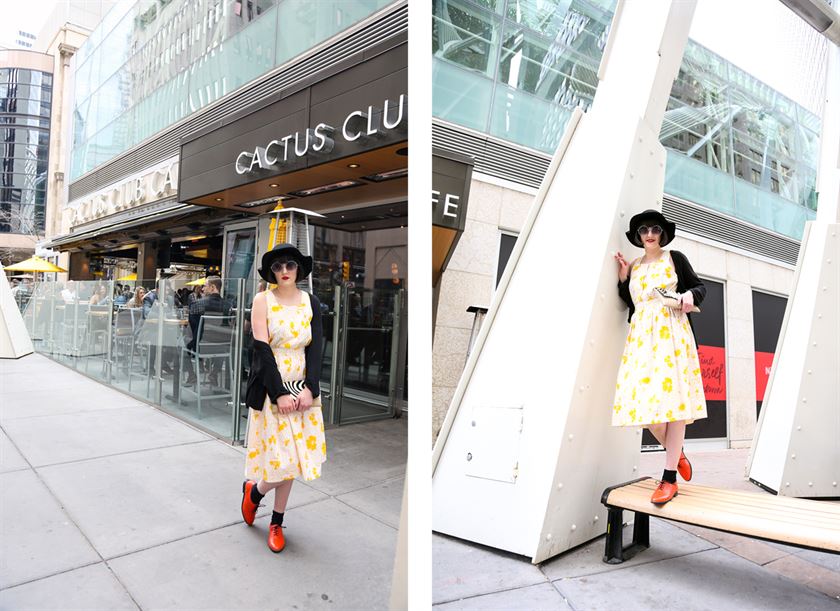 My first run in with Ellen Doty was a couple of years ago as she was about to get on-stage to sing during a Downtown Calgary lunch-time performance concert outside of Monogram Coffee - little did I know that there would be much more Miss Doty in my life and that I would have amazing opportunities pop up to work with her and showcase her fantastic personal style. Also, getting to know her during these various projects has been a lovely pleasure as well.
But back to that first meeting, when I became a huge fan of her stunning musical talent - seriously, go check out her recordings and stay tuned to her new album later this year! www.ellendoty.com. But the plot thickens - turns out that she was already working with my sister, who is her makeup artist and they have worked on numerous projects together over the years.
But I digress. Aside from her stunning voice and musical talents, I also instantly noticed her fantastic personal style, which has a wonderful vintage vibe, and so it came at no surprise that our first official project together was a Style Q&A feature for Avenue Magazine (check it out here!).
And it was during that shoot, after I had the pleasure of styling Doty, that I knew she needed to very soon land in front of my Street Style Huntress lens as well - and so here you have it, ladies and gentlemen, a beautiful and talented lady about #YYC.
How would you describe your personal style? 
I'd describe my personal style as modern vintage. I wear quite a few vintage pieces, but like to combine that with modern pieces as well to create my own unique style.
What are some of your influences when it comes to fashion? 
One of my fashion icons is Audrey Hepburn. She had such a beautiful and classic look and I certainly try to emulate that with some of my personal styling choices.
What are some of your favourite stores and shopping destinations in Downtown Calgary? 
I'm excited that Simons recently opened in The CORE. It's a great spot. I also often get my makeup at Sephora in the Core. I've gotta keep my red lipstick stocked up for sure.
What are some of your favourite Downtown YYC spots? 
I love the Fairmont Palliser. I used to perform there every Friday night for several years, so I like to stop by the Oak Room when I'm around. I also like Local on Stephen Ave, The Palomino, Rosso on Stephen Ave, and 1886 Buffalo Cafe in Eau Claire. There are so many awesome spots downtown.
What are some of your favourite trends right now? 
Big 60s inspired sunglasses. I also love the stripes and colourful patterned or textured tops.
What fashion advice would you give to others? 
Above all else, I recommend that people feel comfortable in what they wear. There's no reason you can't be both stylish and comfortable. I also recommend getting out of your comfort zone sometimes. It's fun to try on things you wouldn't normally be drawn to, and sometimes you will be surprised at how great those things can look on you.
Tell us more about the projects and work that you're involved with. 
I recently finished recording my sophomore album in Toronto, and I'm so so excited about it. It will be ready for release later this year or early next year. I can't wait to share what I've been working on.
What are some of your future aspirations? 
I'd love to continue to grow my audience, but also continue to grow and develop as an artist and performer. I'd also love to tour extensively in places outside of North America like Europe and Asia.
How does your work influence your personal style? 
My music certainly has vintage elements (classic jazz, soul), and that's reflected in my personal style. I love to keep that classic feel as part of both my style and my music.
Anything you'd like to add or tell us about? 
For more info on my tour dates and album launch, you can visit www.ellendoty.com. 
---