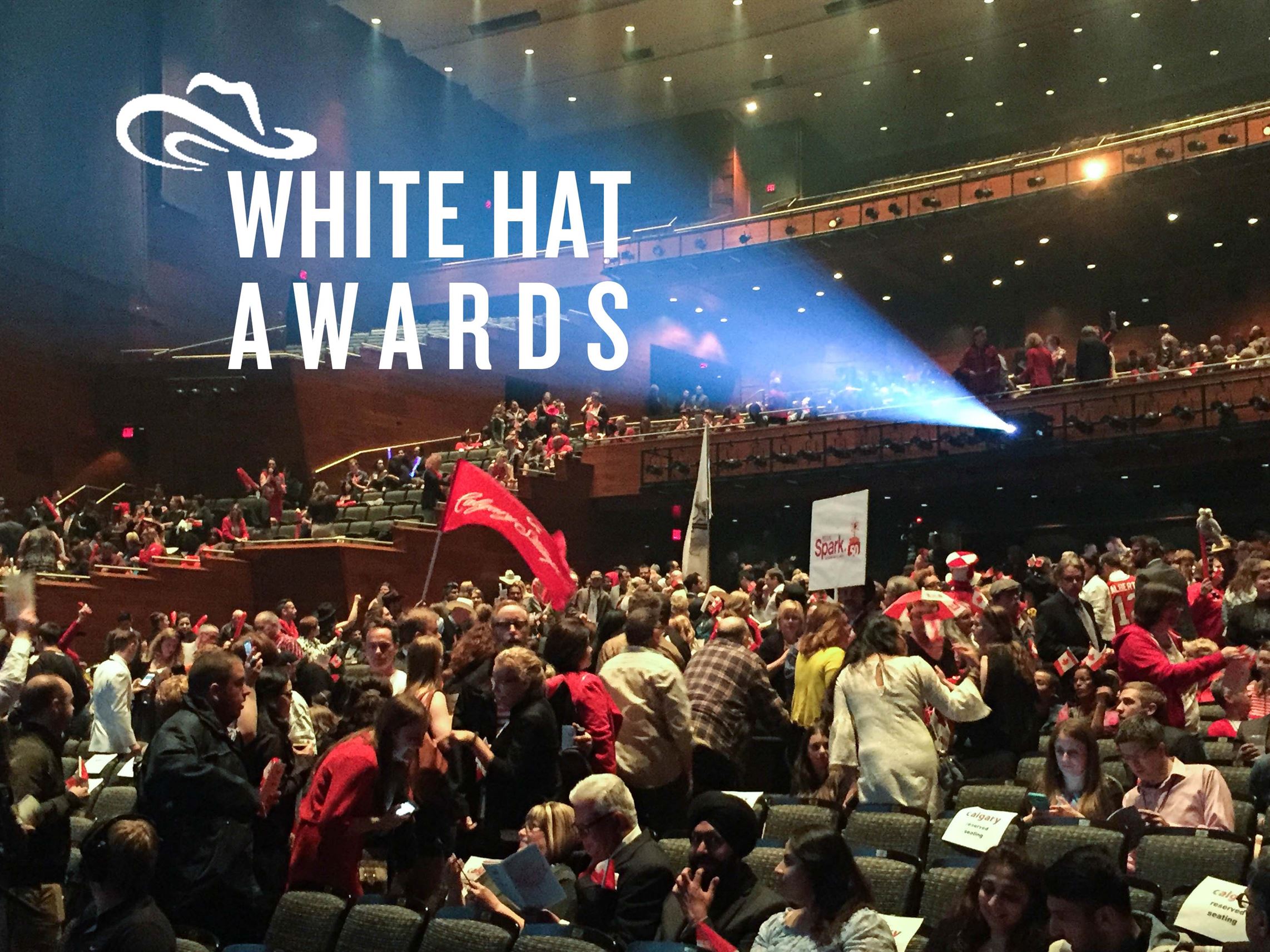 The White Hat Awards is an event when ambassadors throughout Calgary are acknowledged for their commitment to go the extra mile in creating memorable experiences for Calgarians and visitors alike.
May 17, 2017 marked the 55th edition of the White Hat Awards and definitely pulled out all the stops in the festivities. The celebration was not only for the nominees and recipients of the White Hat Awards, but also saluted Canada's 150th birthday and the swearing-in of seven new Canadians!
The hunt for the perfect gift
The evening started off with a montage featuring the MC of the evening, Gord Gillies of Global Calgary. Gord was in pursuit of the best way to celebrate Canada's 150th. And what better way than "lighting the biggest birthday candle"! If you haven't already guessed, Gord decided to light the top of the Calgary Tower.
He made it up to the top of the Calgary tower and even went out to the ledge (YES, it is legit footage!) to light the top of the tower with a sparkler. Obviously, you can't light the tower and definitely not with a sparkler. But use your imagination and the superimposed flames told the audience otherwise, sparking even more energy in the room.
As the video ended, Gord was escorted onto the stage by two RCMP. It was assumed he had been "arrested" for trespassing. The only way out of the cuffs was for everyone to join in singing Oh Canada! with the Youth Singers of Calgary.
Gord's cuffs came off, apparently courtesy of techniques learned from 50 Shades of Grey, and the awards began.
[email protected] White Hat Awards honours @canada150th by turning @TheCalgaryTower into a birthday candle! #yyc! Good luck nominees. pic.twitter.com/ERhSxpVi5E

— Gord Gillies (@Gord_Gillies) May 10, 2022
Celebrities for a night
Back in the Winner's Lounge, each finalist was greeted one-by-one with a glass of bubbly, a gift bag, red and white themed snacks and their very own paparazzi!
Already on top of the world for being nominated for the prestigious award, their adrenaline was visibly surging as they walked along the red carpet vibrating with excitement, tears, calls to moms, and Oh my gods or I can't believe its.
One of the most inspiring moments of the night was when three families took the oath to be sworn in as Canadians. Hundreds more joined in to renew their own vows followed by deafening cheers and many, many congratulations.
Nerves settled. Reality sunk in. Everyone felt like a star.
Awards and their downtown recipients
Exceptional Server, Centre City: Katie Gravelle, Goro + Gun
Exceptional Service, Non-Server: Kalin Desrocher, Calgary Sports and Entertainment Corp.
Exceptional Service, Concierge: Wendy Liu, Hyatt Regency Calgary
Exceptional Service, Accommodation Reception: Alley Tunney, Calgary Marriott Downtown Hotel
Exceptional Server, Banquets/Events: Jenalyn Atal, Sheraton Suites Calgary Eau Claire
Exceptional Service, Beverage Specialist: Jim Aird, Sheraton Suites Calgary Eau Claire
Exceptional Service, Culinary: Valerija Salamon, Sheraton Suites Calgary Eau Claire
Doug Johnson Service Award: Sushila Prahlad, Hyatt Regency Calgary
Calgary White Hat Legacy Award: Studio Bell, home of the National Music Centre
White Hat of the Year, Festival/Event: Beakerhead
Congratulations to all the nominees and recipients! For a full list White Hat Award winners, read the article Tourism Calgary honours outstanding hospitality and tourism industry professionals and businesses.
To view Downtown Calgary's photo album from the White Hat Awards, visit their Facebook page.
---
Editor's note: This post was written by Nicole MacDougall to promote The White Hat Awards and downtown businesses and their staff. If you would like to promote your Downtown business or event, please email [email protected] 
To get events like these emailed to you each week, sign up for the Downtown Calgary Events Newsletter, and follow us on Twitter and Instagram, and Like us on Facebook!
---