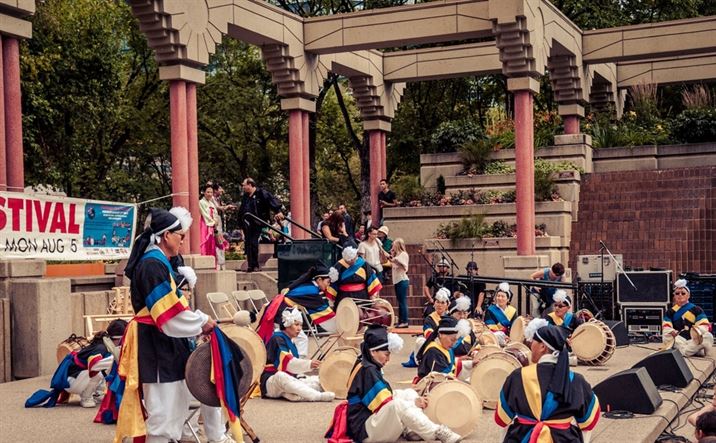 Image Source: Calgary Folk Arts Council, 2017
Come the long weekend, Calgarians typically use the time to go on out-of-town trips to spend time with family and friends. For those of us wanting to avoid the busy hiking trails and long, hot highway drives, why not celebrate the heritage of our city?
Historic Downtown Calgary
Downtown Calgary is part of the Canadian Register of Historic Places and boasts the notorious Stephen Avenue National Historic District - Stephen Avenue.
Stephen Avenue, sometimes called Old Stephen Avenue, was named after the first president of the Canadian Pacific Railway, Sir George Stephen. The avenue has nearly three dozen commercial buildings from the 1880-1930 era (known as the Sandstone Era), mostly retail properties, with several former banks and one church. Following fire in 1886 that destroyed much of the city's earlier wooden buildings, there was a call for construction of fire-resistant buildings. As a result, many of the buildings found along Stephen Avenue are made from sandstone that was quarried from the local Paskapoo Formation.
To learn more about historic Downtown Calgary, you can take in a self-guided Historical Downtown Walk Tour.
From City Hall to the Calgary Tower, the Historical Downtown walking tour has 56 historical spots to stop, explore and start again through downtown Calgary.
The self-guided tour also gives visitors a timeline of Stephen Avenue dating as far back at 1875 when Inspector Brisebois and 50 member of "F" Troop of the North-West Mounted Police established a fort along the banks of where the Bow and Elbow Rivers meet, known today as Fort Calgary.
If you are a fan of a physical copy, there are printed versions available from the Downtown Calgary Association's office (520-304 8 Avenue SW in the Lancaster Building) or downloadable for print here. Be warned it is at least a 21 page document and we recommend picking up the guide book from Downtown Calgary Association. The Downtown Calgary Association is open Monday through Friday from 8:30am to 4:30pm, closed on weekends and statutory holidays.
If you prefer digital version, you can follow the tour at maps.calgary.ca/HistoricDowntown/ on your smartphone. Keep in mind this is not a full app and may not have the functionality you may expect, though it does give you the general details of each stop.
If you are looking to spice up the history a bit, why not try a Ghost and Historic Walk?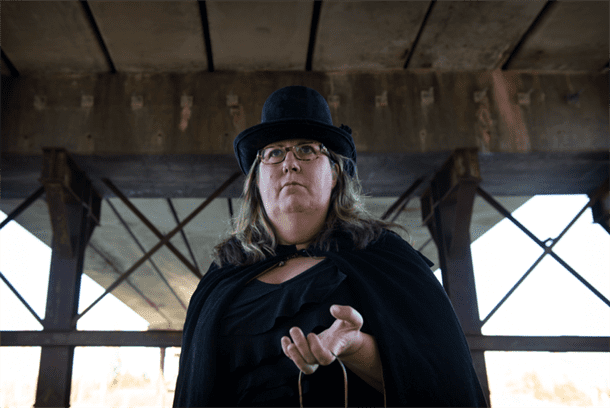 Image Source: Metro News, 2015
Locals and out-of-town visitors alike will be fascinated by these glimpses into the mischief, mayhem and murders of Calgary. All of stories are researched by the guides of Calgary Ghost & Historic Walks and will be enjoyed even by the skeptics among the group.
Our tours include many local ghost stories and and not-so-known local history. The Tour Guides are easily recognizable by the capes they are wearing and the lantern they carry as groups are lead through the history and hauntings of Calgary.
Tours are suitable for children (as long as they are not prone to nightmares) and are wheelchair accessible. Downtown Calgary Ghost and Historic walk tours run most Fridays and Saturdays. Be sure to check their schedule for details.
*Prices are subject to change without notice and you should double check with the organizer when purchasing your pass.
Festival and Fun
The Calgary Folk Arts Council  is pleased to host the 40th Annual Heritage Day Festival at Olympic Plaza. From noon to 6pm, they'll have multicultural performances, ethnic foods and unique handicrafts for the whole family to check out. There will also be an opportunity to explore the Indian Village, get face painting done, a bouncy castle to jump in, water to frolic in, or a chance to simply soak up the sun in front of the stage and enjoy performances.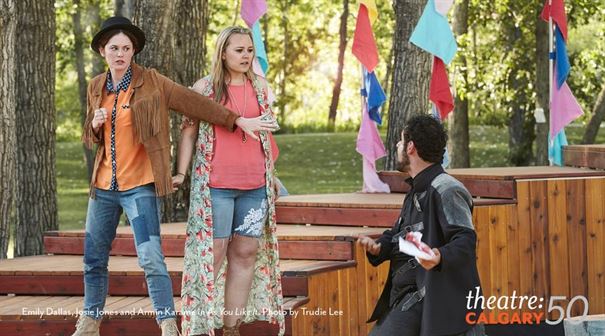 Shakespeare by the Bow - As you Like It
Shakespeare by the Bow is in it's final stretch of performances for the summer. Unfortunately there are no shows on August 7, but you ca still catch a performance the days before or after. No tickets are needed, but a donations are accepted. There is no assigned seating, so bring a blanket and a good friend and enjoy!
If you have some other ways to celebrate Heritage Day with your friends and family in Downtown Calgary, let us know by commenting on this post or emailing us at [email protected].
---