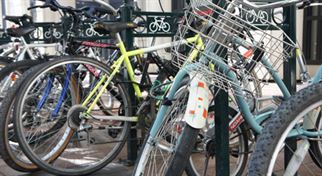 Since I'm relatively new to town and this will be my first Sled Island experience I thought I would consult our roommates for the quick and dirty on how it's done. Zev and Carly are a couple of seasoned pros as far as Sled Island goes and here are some of the tips and tricks they shared with me, along with a couple of my own:
If you're planning to try and take in as many shows as possible a bicycle is the best way to get from venue to venue.
If you're riding your bike it's worthwhile to invest in some type of headlight and reflectors.  Late nights and lots of fun can make for less than stellar riding conditions and the easier you are to see, the better.
Due to the fact that some of the venues are small, it's always a good idea to arrive early to make sure you get into the show you want to see.
Make like a Girl Guide and always be prepared.  A backup plan will come in handy if the show you want to see is full. You can view the festival schedule and customize your own here.
Hats, sunglasses and sunscreen are a good idea for the outdoor shows.  A hoodie, light jacket, or long sleeve shirt will also come in handy on the ride home.
If the forecast calls for rain don't forget a rain jacket or poncho and shoes that won't leave you with trench foot. There's nothing worse than spending the day in wet gear.  And I oughta know, I'm from Vancouver!
A bottle of water is a must, so you can stay hydrated while traveling from venue to venue.
Ear plugs are very important if you'd like to hear your Grandkids ask you for money one day. Performers like Sleep and Lee Ranaldo are known for their 'gear nerdery' and amp volume so ear plugs will prevent at least one less ache the next morning.
Always check out at least one band you've never heard of. They could end up being the your new fave or the next big thing.
Keep your eyes and ears peeled for secret shows and guests. They have been known to happen!
Even though Sled Island was recently voted as one of the top 10 music festivals in Canada by listeners of CBC Radio 3, don't forget that it is not just a music festival. There are also a number of art, film and even comedy shows happening. Check their site for the deets and most importantly, have fun celebrating art in many different forms and the venues that support them.
Zev & Carly's Top 10 Picks for 2011
The Raveonettes
Cursive
Minus the Bear
Battle Snakes
The Sword
Thee Oh Sees
Kurt Vile
Bison BC
Vicious Cycles
Electric Six
Related Posts