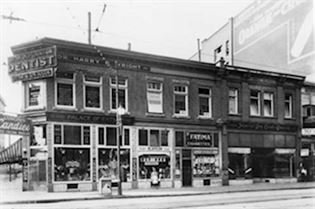 Today's Throwback Thursday photograph comes courtesy of the Collection of the Glenbow Museum Archives, and it's of Alberta Block located at 804 - 1 Street SW taken in 1924.
The long time home of Cordon's Palace of Eats, this building was built in 1903 by a group of eastern investors including Donald A. Smith (Lord Strathcona), R.B. Angus, E. Osler and Wm. Scarth.
Smith is well known in Western Canadian history as being the person who helped negotiate a settlement with Louis Riel to the Red River Uprising, and was a major stock holder in both Canadian Pacific Railway and the Hudson's Bay Company.
The building retains its original metal cornice and frieze, and the building comprises offices on the upper floor and retail stores on the main floor.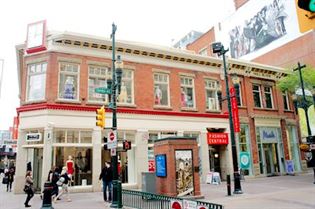 Today, Alberta Block makes up one portion of Fashion Central, along with Hull Block and Macnaghten Block.
Fashion Central is a premier fashion destination that focuses on boutiques offering unique, innovative contemporary, cutting-edge and quality-driven fashion.  Featuring seven street-front shops and eighteen interior units, you can find both designer brand fashions not typically found in regular shopping centres as well as fashion designer boutiques.  If you're in the market for style that you simply can't find anywhere else, make sure to drop by Fashion Central!
And speaking of fashion, if you know of someone who exhibits style, you should nominate them as a 2012 Downtown Style Icon.  The deadline is June 18, 2022 and winners will become the face of Downtown Calgary's Back To Style event in the Fall, along with winning a bunch of other cool prizes.  Be sure to include a picture and let us know their favourite things about downtown Calgary.
That's it for this week's Throwback Thursday. Tune in next week and every week in 2012 for more glimpses into the past of Downtown Calgary.
Do you have any photos of Downtown Calgary from the past that you'd like to share with us?  If so, send us an e-mail at [email protected] and it may appear in our weekly segment!
---