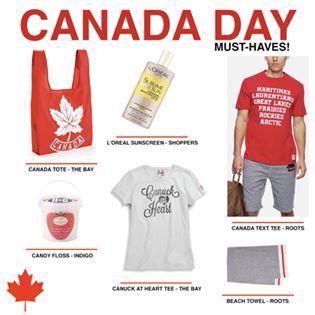 Are you ready to celebrate the best country on Earth next Tuesday?  There all sorts of incredible Canada Day events happening all over downtown Calgary and beyond, so you'll need to be prepared! This is such a special day to wear your maple leafs and red + white with pride so pick up a few family essentials to spend the day in the sun celebrating our amazing country.
You'll want to load up on these amazing cabin tweed beach towels from Roots for everyone to perch on while you picnic in the sun. Or use them for what they are made for - hit up the splash pool at Eau Claire with your kids! Cozy and made by one of the most patriotic companies in Canada, these towels will last you all summer long (and then some!).
Wear your heart on your sleeve with these his and hers tees from The Bay and Roots. You'll never be mistaken for an expat or an American wearing these around town next week. Or anytime for that matter!
You can never have too much of a good thing but in the case of sunshine, you've got to be more careful. Load up on sunscreen and protect your skin from the hot sun. And don't forget to reapply after being in water or after a couple hours of being in the sun!
You'll need something to tote everything is pick up this great bag from The Bay to stash all your flags and wild Canada Day hats in. This foldable bag packs a lot of gear so don't hesitate to pick up picnic ingredients at a sandwich shop downtown!
Where to Buy:
Canada Day Tote Bag, The Bay
Canada Text T-Shirt, Roots
Canuck at Heart Tee, The Bay
L'Oreal Sublime Sunscreen, Shoppers Drug Mart
Strawberries & Cream Candy Floss, Indigo
Cabin Tweed Beach Towel, Roots
---