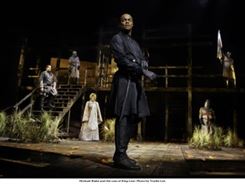 Shakespeare's King Lear is an epic tragedy. A king who fears growing old and wants to divide his kingdom amongst his three daughters, and determines this by asking them how much they love him. And when his youngest daughter refuses to play his game, he banishes her and anyone who objects to his decision.
King Lear is a dense play, filled with themes of love, chaos, justice and madness. Theatre Calgary's production doesn't leave anything out, running the whole play in three hours. It is a strong, ambitious production, carried on the shoulders of Benedict Campbell as Lear and moved along by the direction of Dennis Garnhum, who lets the text breathe and stand on its own. Every cast members has been intimate with the text, in that they know their character inside and out and understand who they are in context of the plot. It means that no one really makes a misstep in their performances.
Scott Bellis's Fool brings a bit of levity to the play and he is missed when he gives up on King Lear, as his jumping around and playing music give the audience a bit of time to take a breath. Micheal Blake's Edmund is a stand out performance as the evil illegitimate son, without overacting in any way.
Theatre Calgary's King Lear is a simple but deep exploration of the text, focusing on the characters and their flaws and motivations. It is a production is isn't bogged down and tells the story of the foolish King who finds the true nature of love. It is moving in its simplicity.
Theatre Calgary's King Lear  runs until April 12th. More information is available online.
Photo Credit: Trudie Lee Photography
---