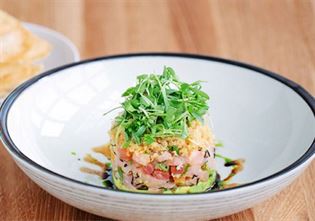 Just as The Big Taste wraps up next week, The CORE has a special event on March 16th, 2016 celebrating the chef's of all of the great restaurants that can be found at the shopping centre. The very first of its kind, the "CORE Cook-Off' will be a drop-in, open to the public, tasting treat for Downtown diners - a chance to experience the four restaurants participating.

Pop by to find the CORE's Double Zero, Metropolitan Grill, Cactus Club and Hy's Steakhouse, bringing bite-sized deliciousness to the CORE's second floor, between 11:30am – 1:30pm (or while supplies last - this town is full of foodies so be sure to arrive early!).

Don't worry about tickets or invitations, this is a completely free event! The CORE is welcoming all foodies and hungry passers-by to enjoy their mid-week lunch break a little bit more with a taste of the Cook-Off's freshly-prepared, signature dishes. I'm not sure if there is a better way to spend your lunch hour!
Not only is this event a win-win for attendees but it is also going to help people in need. The CORE Cook-Off is adding a little friendly fire between Chefs by including a vote for best dish! Tasters at the event will be asked to vote with their tastebuds and select their favourite dish sampled – with the winning Chef granted $1000 to donate a charity of their choice, courtesy of the CORE. Further dollar contributions from satisfied, drop-in diners will also be warmly welcomed by the CORE, to be donated to local charity causes.
"March brings a real appreciation of Calgary's vibrant food scene," shares Allison Onyett, on behalf of the CORE. "With events such as The Big Taste underway and the recent release of Avenue's 2016 Best Restaurant Awards list,  this is the month Calgary's talented chefs and many fantastic eateries are in the spotlight.  Here at the CORE, we wanted to join the city-wide festivities of food and so, in collaboration with our four restaurants, we created the CORE Cook-Off! The tasting event is very much open to all, everyone is welcome. They'll be an open-style cook-off between our restaurant's Chefs, lots of delicious food to try, and it's all for a good cause. We're hoping to see lots of tasters stop by and enjoy a little lunch on us!".
Sounds like a win-win for everyone so get your tastebuds ready for a delicious meal of small bites! Bring a friend!
---