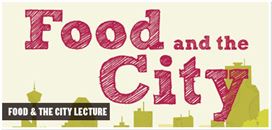 May 6th, 2015 - Join food policy expert, Wayne Roberts, as he examines the critical role healthy food and sustainable food policy plays in building resilient communities and a vibrant Calgary.

May 10th, 2015 - Join Spiritus Chamber Choir in celebrating Mother's Day with an afternoon of singing! Vocal Mayhem will feature a program of powerful choral masterworks by Orff, Barber, Whitacre, Sisask and also spirituals such as "Wade in the Water" and "Joshua fought the battle".

May 8th & 9th, 2015 - Epic and heroic, Dvorak's powerful Cello Concerto performed by dynamic Canadian-German cellist, Johannes Moser sets the theme, while Korngold's rollicking award-winning film score and Strauss' jaunty chronicle of a folktale character's misadventures bring the evening to a lively conclusion.

May 9th, 2015 - National on 8th is teaming up with Village Brewery and Brewmaster Andrew Bullied to host our Brewmaster's Beer Dinner on Saturday, May 9th. Join them in the Tap Room at 7pm for a three-course dinner with four beer pairings.

May 6th, 2015 - Come enjoy a performance from Calgary's most unique, wild, and inclusive dance theatre company! In this performance MoMo Dance Theatre will show the progression of how they create work, including favourite exercises, works in progress, and final performance pieces. Plus there will be an opportunity for the audience to chat with the performers and choreographers.
-
Want to be the first to know about Downtown Calgary Events? Sign up for the Downtown Calgary Events Newsletter.
---