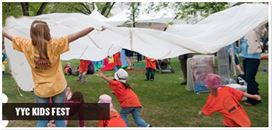 May 20th to 23rd - With more new shows - each as big as a kid's imagination - the 2015 Calgary International Children's Festival promises to be the most exciting and engaging yet! This festival features new shows from around the globe: side splitting comedy and the savage drumming of BAM, a spectacle of anti-gravity acrobatics and comedy in Leo, a unique adaptation of Alice in Wonderland, plus the PBS sensation Wild Kratts Live performing live on the Jack Singer Concert Hall stage.

Dads in Bondage
Until May 23rd - One of Lunchbox Theatre's biggest hits! Charles, Joey and Kirk are very successful men of the new millennia. But when they unexpectedly find themselves laid off from their jobs, they must take on a new career - the "stay at home dad." How hard can it be?! The results are heartwarming and hilarious! This award-winning show has wowed audiences all across Canada and beyond!

Bach @ Knox
May 21st to 23rd - Celebrate the magnificence of composer Johann Sebastian Bach in this annual Baroque celebration conducted by Ivars Taurins. You are invited to explore the many aspects of Bach, with the grandeur of Knox United Church providing the perfect setting for this feast of riches from the world's most revered composer.

The Light of Other Days
Opens May 22nd - The Light of Other Days at The New Gallery, is a two-person exhibition by Brooks Dierdorff and Robert Beam. Together they explore the role and value of photography in our contemporary culture and natural surroundings. The work examines cultural, scientific and personal themes in various landscapes while searching for the meaning that we create through our interactions with our environment.
May 20th - ProArts presents Vocal Latitudes World Music Choir. The group's repertoire is varied and includes gospel, jazz, world music, pop and classical works. A mixed-voice, community choir, Vocal Latitudes has sung at the Jack Singer Concert Hall, has made several appearances at the ProArts At Noon Series at the Cathedral Church and has performed at seniors residences and community events around the city.
-
To get the latest Downtown Calgary events emailed to your inbox sign up for our Downtown Calgary Newsletter.
---