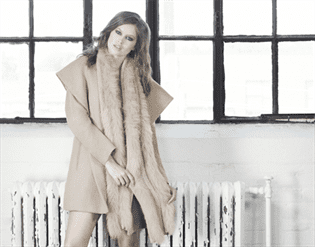 As the leaves start turning all sorts of beautiful colours and the city is hanging on to every remnant of summer, the fashion set is busy checking out the best looks from New York Fashion Week online and planning their Fall/Winter wardrobes. Sentaler luxury coats is coming to Calgary to host an exclusive trunk show at Holt Renfrew this Friday and Saturday. You are personally invited to attend the event and to meet Bojana Sentaler, the creative director behind these gorgeous coats! Each coat has a stunning tailored silhouette and is available in soft, luxe colours that coordinate perfectly with - you guess it - snow. 
Before she makes her way to Calgary, I caught up with Bojana to get a little preview of what stylish Calgarians can expect this fall and winter season from Sentaler.
What is the best silhouette for fall/winter 2016?
Large collars and nipped waistlines. 
What winter essentials should every Canadian woman own to stay fashionable throughout the colder months?
A well-tailored and warm alpaca coat by Sentaler along with a pair of thigh-high boots. 
What can Calgarians expect at the trunk show this week?
Sentaler will be bringing limited edition coats and capes, which will be available for pre-order at the Holts Calgary trunk show only. Also, you will have a chance to meet designer, Bojana Sentaler and with a purchase of a Sentaler coat, we will be giving away a beautiful 100% baby alpaca scarf. 
The details for the trunk show:
Sentaler Luxury Outerwear Trunk Show

Holt Renfrew Calgary

Friday, September 25th & Saturday, September 26th

Trunk show is 

all day on both days; Bojana Sentaler (Sentaler creative director) personal appearance: Friday 11 am - 5 pm and Saturday 11 am - 4 pm. 
Holt Renfrew is also currently running a great giveaway for $1500 to spend in-store and to be featured in their 2016 campaign. The campaign is called #AllTogetherAtHolts and is asking you to share a selfie being your stylish self. You should also reach out and nominate your favourite style icon to participate too! All of the details here!
---