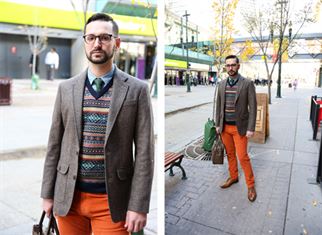 Anytime someone tires to tell me that menswear isn't as exciting as the clothing and fashion choices that women have, I want to scream and introduce them to someone like Eric Gooden. His personal style is dapper - he's classy, dashing, stylish, and as some might say, dressed to the nines. You can take a lot of style notes from Gooden, as he displays a great knack for layering, working with colours, textures, patterns, and in general, looking uniquely amazing!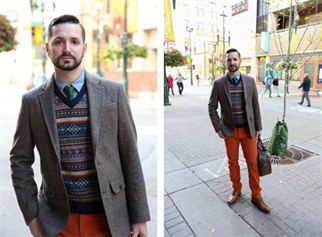 How would you describe your personal style?
I love exploring the nuances in the sartorial traditions of countries such as America, England and Italy. Well-made basics can be worn year after year and can be put together in unique ways that look more interesting than the typical downtown uniform of a two-piece suit and tie.
What are some of your influences when it comes to fashion?
As a marketer, I often pay attention to the styling in campaigns and editorial shoots. This probably relates more to my interest in how they're selling the fashion rather than influencing my personal style, though I'm sure some of it trickles down. A source that has inspired my personal style are the happenings on Instagram outside of Pitti Uomo (the mens fashion trade shows in Florence). Men of every age are always very well put together at these shows, and they show great interpretation of marrying traditional tailoring with contemporary style.
What are some of your favourite stores and shopping destinations in Downtown Calgary?
You can find me regularly checking out Holts, Harry Rosen, The Bay and Brooks Brothers. Jermyn Street is also a great new boutique at The Core. They carry some great heritage British labels that still maintain a tradition of quality such as shirts from Hawes & Curtis (they helped the Duke of Windsor create the famous Windsor tie knot).
What are some of your favourite Downtown YYC spots?
I love a good hotel bar so I'll often be meeting with someone at Thomsons at the Hyatt or The Oak Room at the Palliser.
What are some of your favourite trends right now?
Since the 90s were formative years for me, it's certainly interesting to see them repeating themselves so soon in fashion, although I pay more attention to 90s music, which never really went anywhere as far as I'm concerned.
What fashion advice would you give to others?
Know something about what you're wearing and where it came from. That could be a bit of the label's history or some of the social good that a brand is doing. Ultimately that kind of knowledge informs better choices on what you buy. In many ways it's the same as the local food movement, but it's been slower to catch on in the apparel business. Just as you'd prefer a tomato grown by a local farmer, you'd probably prefer a jacket made by someone paid a living wage.
Tell us more about the projects and work that you're involved with?
Right now I head-up Hype Media, a Calgary-based agency providing marketing and event management services, and also handle marketing for Bellstar Hotels & Resorts, which has seven boutique resort properties across Western Canada. I tend to wear many hats in my work: creative direction, web and graphic design, photography, public relations, and event planning are all fields I have a hand in.
What are some of your future aspirations?
I really love to travel and want to keep checking off the destinations.
How does your work influence your personal style?
I'm all about first impressions. It's what counts in my work in marketing and that definitely comes through in my style too. I'm also a big believer in etiquette. As Tom Ford says, "dressing well is a form of good manners".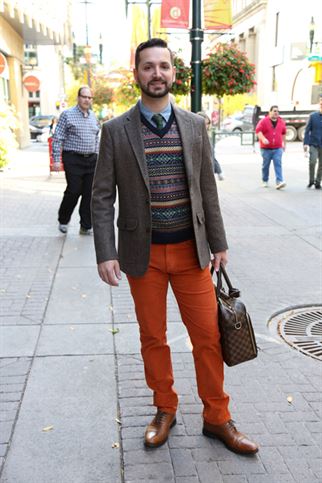 ---