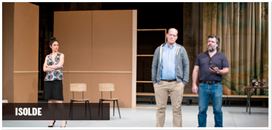 Isolde at Theatre Junction - Feb 10 - 13, 2016
Theatre Junction is proud to present ISOLDE direct from New York City on February 10, 11, 12 and 13th. Get your tickets now!
Isolde, a famous actress who once inspired passion and worship, is foundering. She is unable to remember the lines that fueled her greatest roles. Additionally, Isolde is losing her past and all her memories. In an attempt to escape her fate, Isolde decides to create her dream house – a fortress to protect her fragility, a project that her wealthy, down-to-earth contractor husband, Patrick, encourages to distract her. The project is soon jeopardized, when Isolde and her husband hire Massimo, an award-winning architect.

Cookie Giveaway - Feb 12, 2022
On February 12th, Downtown Calgary and SAIT Culinary will be on the +15 between Banker's Hall and The CORE from 11:30am – 1:30pm spreading some Valentine's cheer and promoting the upcoming Big Taste event. Look for free heart shaped cookies baked by the wonderful folks at the SAIT Culinary Campus.
The SAIT Culinary Campus is a great place to grab lunch, but did you also know they teach cooking classes as well? Catering to the downtown office crowd, these classes range from Date Nights to Knife Skills and are educational and fun! You can even partake in the Rush Hour classes, which feature 30 minutes of instruction and include groceries so you can get home after work and cook yourself and your family a wonderful and wholesome meal!
Glow On Stephen Ave - Feb 12 - 15, 2016
When the sun goes down, the lights will go up on Stephen Avenue. To add some romance and magic to Stephen Avenue this Valentine's/Family Day weekend, we've added to the already stunning lighting features on Stephen Avenue.
Stroll down Stephen Avenue with your friends, family or that special someone while taking in all the dining and nightlife that Stephen Avenue has to offer.
This event is a test run/preview for an upcoming lighting event coming early 2017.

Garter Girls Valentine's Day - Feb 12 - 13, 2016
The Garter Girls are ready to celebrate Valentine's with TWO special shows and a very special star, King of Burlesque Mr. Gorgeous!!
With special appearances by The Garter Girls corps members AND guest Yaretza, and a different line up on each night at The Engineered Air Theatre in Arts Commons.

Family Day Downtown - Feb 15, 2022
Enjoy a few unique family events happening downtown on Family Day, February 15th.
---