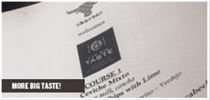 The Big Taste Continues - Until March 13, 2022
You have until March 13th to enjoy The Big Taste fixed price dining. Make your reservations today, as you won't want to miss out on these fantastic deals at some of Calgary's finest restaurants.

Cockroach - Until Mar 19th, 2016
A man from an unnamed Middle Eastern country hustles to survive in icy cold Montréal. He's a charmingly treacherous liar, a thief with a haunted past. He's got problems: sometimes he thinks he's a cockroach. How can he escape the dark corners of his life, get beyond survival and start to thrive? When he meets the man who hurt the love of his life, he can't help himself. He starts to plot revenge.

Free Noon Hour Concert - March 09, 2022
Gregory Brookes has been praised for his "rich baritone sound" and "Shakespearean acting." After receiving a BMus in clarinet performance from the University of Calgary, he pursued graduate work at the Eastman School of Music where he earned a Master of Music in vocal performance and literature. He subsequently earned a Performer's Diploma and a Doctor of Music from Indiana University's Jacobs School of Music. He has earned praise for both his operatic and musical theatre roles some of which include, Leporello in Don Giovanni, the title role in Sweeney Todd, Pooh Bah in The Mikado and Billus in South Pacific.

Fitness @ the CORE - March 13, 2022
Come get fit at the CORE! They're here to help you sweat with FREE weekly fitness classes every Sunday, courtesy of Fitset and Lolë. Please arrive between 10:30am and 10:45am so you can drop off your things and sign a waiver. Class starts at 11am sharp on the 2nd floor glass bridge, right in front of Lolë. See you there!

Playing our City Concert - March 12th, 2016
Calgary will be filled with the sound of music on Saturday, March 12, as Playing Our City, a Calgary JUNO Awards Host Committee initiative, comes to life.
Stationed at Central Library, Calgarians will collaborate with trained musicians to create music by "playing" their surroundings, ultimately producing an innovative live performance. The piece, composed by Laurie Radford and JUNO Award winner Allan Gordon Bell, will have citizens working together and experimenting with the traditionally non-musical elements of their locations, such as earth, stone, glass, human bodies, wind, and steel (just to name a few!).
---