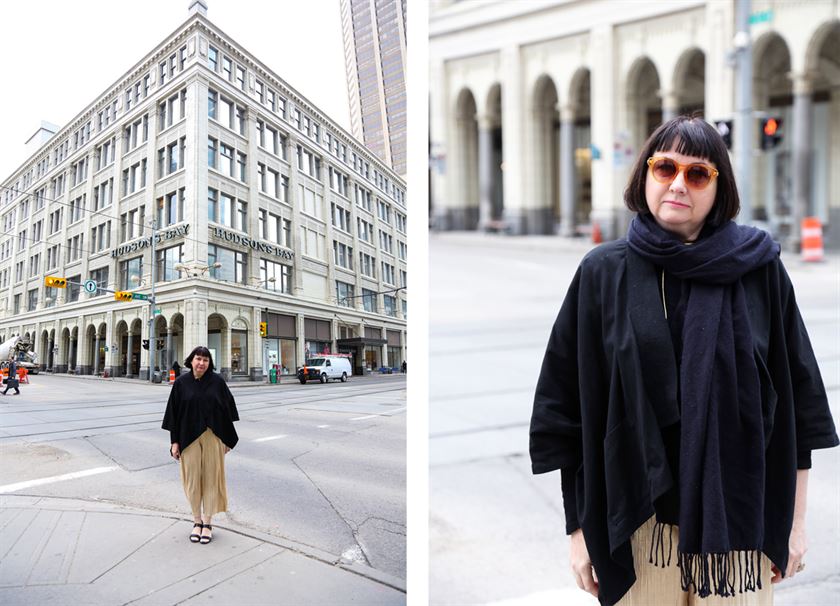 One of the main reasons that drew me to attend journalism school was the intrigue of meeting new people and having the opportunity to peel away even just a layer or two to discover what truly makes someone shine and to find out what they are about. I love hearing stories of how they've chosen to live their lives and what journeys they've been on - and this doesn't apply to just fashion, although in this instance, it kind of does.
I originally met Myra Miller at a local market a few years back, where she had a booth set up with some seriously fabulous vintage clothing, so running into her again and finally having the opportunity to check out her new store, Velour Clothing Exchange, was a real treat. Her passion for fashion and style is truly magical, and chatting to her about her story was truly inspirational. I love the concept of her new store, and I encourage you to check them out - and in the meantime, read a little bit more about Miller's fashion inspiration - and let's take a moment to celebrate another incredible and stylish Calgarian!
http://velourclothingexchange.com
How would you describe your personal style?
Minimalist & fashion forward.
What are some of your influences when it comes to fashion? 
My own closet from previous decades 🙂 I love seeing how styles from the 60s to 90s influence today's fashion trends. My new store, Velour, carries pieces from each of these decades, along with contemporary items.
What are some of your favourite stores and shopping destinations in Downtown Calgary? 
Fluevog because I love shoes! Aritizia, Topshop, H&M for clothing. I also love shopping and supporting independent boutiques & consignment stores to find unique, one of a kind pieces, often at great prices! I love wandering through Holts and I've been so busy with Velour that I haven't even made it to Simons yet, but I have a feeling that this will become one of my favourites soon!
What are some of your favourite Downtown YYC spots? 
Glenbow Museum, National Music Centre, Prince's Island, River Cafe and Arts Commons.
What are some of your favourite trends right now? 
70s colour palettes, trench coats, high waisted trousers, wrap skirts, block heels.
What fashion advice would you give to others? 
Get to know and dress in the most flattering silhouettes for your body shape, but at the same time don't get stuck in a rut. Dressing should be playful and exciting, so stay open to trying a new colour, texture, shape or vintage piece 🙂
Tell us more about the projects and work that you're involved with. 
So excited about opening Velour Clothing Exchange, Calgary's first vintage and modern men's and women's buy/sell/trade clothing store. After completing a Women's Venture program offered through Momentum, I opened Velour Clothing Exchange in November on 17th Ave above Tubby Dog restaurant. My daughter, Michelle, is my business partner. She is currently living in Montreal and working on launching our on-line store this spring. Michelle showed me a store operating the buy/sell/trade model when I visited her in Montreal, and we both thought that it would be great to bring the model to Calgary. We both feel that there is a real gap in vintage store options in Calgary, especially for men. Formerly a pop up shop called The Front Porch, Velour builds on its reputation for carrying thoughtfully curated, hand-picked collection of men's and women's clothing and accessories. The store specializes in wearable 60s - 90s vintage and on-trend clothing.
Velour Clothing Exchange is committed to expanding and defining personal style. Velour encourages style implementation by incorporating vintage and modern clothing into wardrobes in a relaxed environment and at affordable prices. We have recently begun to host pop ups at the store on Saturdays, and we also host private shopping parties and events in our beautiful 1,150 sq. ft. location.
What are some of your future aspirations? 
We want to expand our community connections and become a venue for small art and music events in the city.
How does your work influence your personal style? 
Working with my daughter as my business partner has influenced my personal style - Michelle has a fantastic sense of style that references Montreal's street style scene.
---