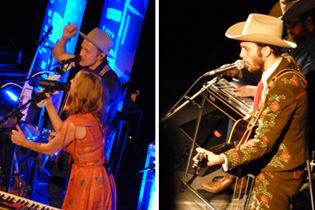 Luke Doucet and Melissa McClelland, the husband and wife team who comprise the Canadian indie-roots group Whitehorse, each have long and storied musical careers. Together as Whitehorse, they seamlessly meld their musical talents and lift them to new heights of sonic synergy. There was a lot of synergy happening when Whitehorse blew into town on January 31 for a much-buzzed performance at Knox United Church.
Opener Daniel Romano, a genre-shifting member of the rock band Attack in Black who has performed with everyone from City and Colour to Shotgun Jimmie to Baby Eagle, wowed the packed house in authentic Opry style. Resplendent in sparkly appliquéd suit and white cowboy hat and accompanied by a lap steel player in a Canadian tuxedo, Romano channeled his inner Porter Wagoner through George Jones for a set of original songs of heartbreak and hardship. With a sweetly weeping lap steel as the perfect accompaniment for the dust-bowl tear in Romano's voice, the stately woodwork and stained glass of the hundred year old church was transformed for a while into a Memphis opry house.
Between sets, with the sound system cheekily playing Springsteen (no doubt as a nod to Whitehorse's famous cover of I'm on Fire), one couple in the right front balcony got up and danced, cheek to cheek. It was a diversion that set the tone perfectly for the smouldering headline act to follow.
Sashaying onto stage, hips swaying, fingers snapping, the duo known as Whitehorse wasted no time drawing the packed house into their musical vortex. Cheek to cheek, dueling guitars forming a heart shape around them as the couple shared a single mic, they launched into a track from the newest album, The Fate of the World Depends on This Kiss. Throughout the ninety minute performance, drawing heavily from their latest release, Melissa and Luke were a constant stream of synchronized motion. Moving from mic to mic, switching guitars, laying down vocal tracks and an array of percussion for an complex feedback of layered loops, they danced apart to meet together again.
Particularly impressive was Luke Doucet's guitar virtuosity, especially as he coaxed deep dark reverberating twangs from his signature Gretsch hollow-body guitar. It was the perfect foil to Melissa McClelland's pure vocals. Rounding out selections from their newest album with crowd favourites from their debut album, Whitehorse also threw in some imaginatively remixed material from their earlier solo careers. Appropriately, for a venue with near perfect acoustics, the entire congregation joined in for a singalong on I'm on Fire, the final song of the encore.
Knox United Church deserves special mention for continuing to be a wonderfully soulful venue for intimate concerts, right in the heart of downtown Calgary. The beautiful space with the soaring vaulted ceiling, massive stained glass windows and gleaming dark woodwork celebrates its centennial in 2013. If you have never attended a concert at Knox United Church, this is the year to set that right.
---