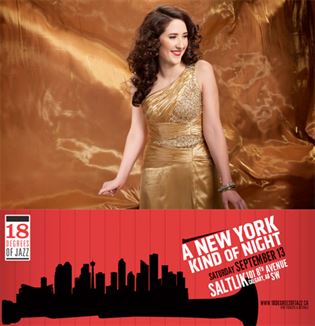 Let me paint you a picture: it is a warm fall evening on Saturday September 13th, your car pulls up to the curb on 8th avenue and the city is bustling with energy and people. The sound of stilettos fill the air as you ascend a gorgeous curved staircase. Dim warm light fills the brick room overlooking Stephen avenue. The seven piece Jazz band smoothly enters on to the stage and the first sounds travel through the full room and smile slides onto everyones' face. The mood is set, drinks are flowing, the dance floor bustling.
18 Degrees of Jazz is a slick night of music! This year's event has a fresh urban take – Ellen Doty and her Fabulous 7 piece live Jazz band will be treating us to a night of music we all know and love. From R&B, Funk, top 40, soul and Jazz – all with a Jazz personality! This not your regular Jazz show. This social, high energy night will be one to remember with smooth tunes, great dancing, and a real NYC buzz. We will also have a silent auction filled with some swanky items that you will definitely want to bid on and some spectacular dancers from DJD.
This night is designed for young professionals and everyone in between who are looking for a fun night out in Calgary and who want to support a great cause while doing it. All the funds raised from this spectacular night go to Big Brothers Big Sisters of Calgary and Area.
Have you ever been a mentor to someone, or had a mentor? Do you recall how much of a positive impact this type of relationship can have on a mentee? A recent Boston Consulting Group study revealed that donors can expect a Social Return on Investment of $18 return for every $1 invested in the BBBS program. An investment of $1800 ensures the presence of a mentor in a young person's life for one year and could result in $32,4000 in Social Return On Investment (ROI) for your community.
We are here to help the community one child at a time.
Learn more about the 18 Degrees of Jazz event on their website or on Facebook.
Editor's Note: this has been a guest post on behalf of the organizers of 18 Degrees of Jazz. If you have a downtown event that you would like to promote, please email [email protected]
---